Wow its been a long time since posting but I see our Flickr Watch Collector group is growing, also the forum has trickling visitors. Thanks to "Jugghead" for moderating and answering questions for those who needed it. I've been moving around and very busy, but I'm on track to giving more attention to my watches and blog post! I have a new camera so I just need to read up how to take glamorous pictures like I see in the group!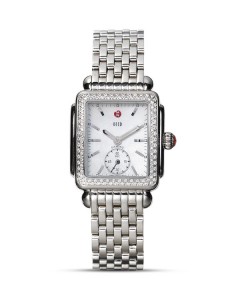 Christmas is around the corner so I'm sure many people will be looking for watches for themselves and as gifts for others. Hopefully, I will help or at least point out my favorites! These Fall I have seen lots of celebrities sporting the brand Michele Watches. These are high dollar watches that I have reviewed once before. These are watches that can be customized, has all of the bling if you want a lot of attention and many designs to choose from. What I like the most is the large collection of watch bands, so many colors and types to choose from. The price tags of a minimum of $325 up to $6,000 may not be for most but from what I heard these are worth collecting! After all, if you check all of the popular fashion magazines such as Elle, NYT and other celebrity blogs you'll see why the brand is so popular.
My favorite Michele Watch is the Tahitian Ceramic Black Bezel. So elegant and temporary!