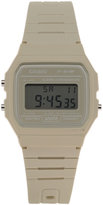 So, this is one of the newest watches in my collection! I know its nothing special and I'm sure everyone as a kid has had a Classic Casio F-91w Watch. Well, one watch color that I've never had in my collection is Grey! So I wanted this for Christmas and of course it was simple to find. In the local Sears.
I love the simplicity of this watch and more so than the Casio G-Shock. I don't think these Classic Casio watches will ever go out of style at all. I was in Europe and I saw a grey classic with a calculator and it was a bit more retro. I asked the price and it was over 300euros.. I could not find the same here in the USA however. We'll see if I come across it.
You can get the Classic Casio Watches anywhere like: Wal-mart, K-Mart, Sears,CVS or Walgreens. Pricing shouldn't be over $24. Mine originally was $19.95 but with the Christmas sales it was 25% off!