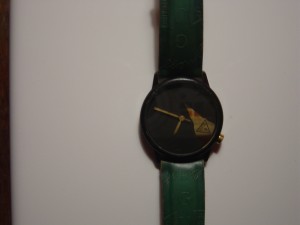 It's been a long time since I've written I know. I have been moving and changing things around in my new place. But quickly I will review my Green Guess watch. I really cannot remember how I received it and if I purchased it or not but here is a review of it. I honestly think it is a knock off Guess watch but what the heck I'll write about it since I have it.
The watch is by Guess? And it has a unique leather green watchband with the words GUESS in script and in normal font throughout the band in gold coloring. Right now as you see in the photo the band's colors have faded just a bit. The dial of the watch is black and inside there are no visible numbers. Only the hands of the time and also gold type of strip that is gold and has the old Guess triangle logo with the question mark "Guess ?".
This watch really does not receive much love from me, as I really don't like it. I apologize to anyone reading it, especially if it was a gift. I just cannot remember 🙁
The movement of the watch is Japanese and made in Japan!