I love this watch!! I use to wear it all the time. I think after I needed to get a new battery I let it slip in my collection and it has not been back. Well until now! I have been shopping for watch batteries for this watch to bring it back in the mix. What do I like most about the watch? Take a look at the tile and the quality upon which it was built. I don't think the photo will do it much justice but oh well. The brand name of the watch is America Perry Ellis and I think they have stopped making much of anything. Perry Ellis was a top clothing brand back in the 90s'.
The dial of the watch is a dark grey with a tint of green. Inside the dial of the watch the numbers are Roman Numerals, but not for every number. Those which are engraved are: I, II, IIII, V, VI, VII, VIII, X, XI. In the background and top of the numerals are in normal numerals is the print of seconds. Counted every 5 seconds 5-60. The logo of the brand name is located in the bottom middle of the watch with America in bold and below Perry Ellis.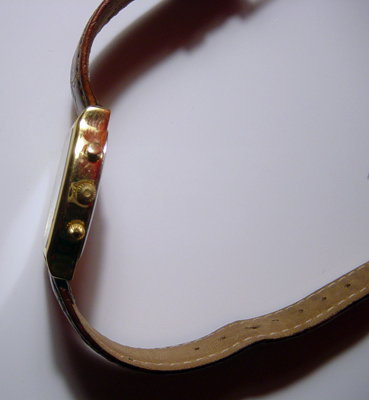 The watch band is Genuine Leather made in Harley Roma and has not been replace. The color is brown with a texture of snake skin and latches are gold as well as the border of the watch. When you turn the watch around the back is stainless steel and the brand name is engraved and also the watch battery number.
I love having this. That way I don't have to open the watch up before I replace the battery. The battery number is: 364
Japan Movement
Now my favorite part of the watch are the three smaller dials inside of the watch. They are organized in the shape of the triangle. The very top circle is the Month and every other month is printed. The left circle is the date and all of those dates are listed. Finally, the circle on the left displays the day of the week and all days are listed. This was my first analog multi-functional watches when I was 18 so I was a bit excited. Now 9 years later I will resurrect it from the watch box 🙂