My old timeless Relic brand name watch. This watch features gold plate surroundings. The emblem Relic is in the middle with a cream color and clock hands of gold. The watch dial does not include numbers but small gold markings. The watch does not have to be hand winded at all it is automatic.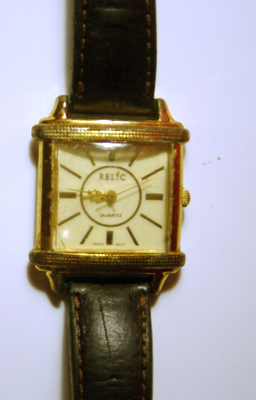 The watch strap is brown dark leather without patterns which I prefer. Surrounding that is a light brown thread with two strap hooks.
The serial number of the watch is: RELIC ZR-54030
I'm unsure of the year like I mentioned in my first watch collections post.
The battery watch size is the typical size of : 744