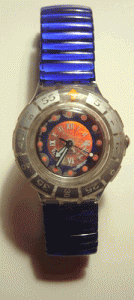 So after I got my hands on my second yellow swatch watch gift I decided that I was a swatch super fan! I went out the next season and purchased this blue plastic swatch watch. I loved it once I saw it because of the movable dial. This was the first of that kind in my collection. Most watches with the movable dial are for men, and I look very masculine. Apart from the movable watch dial here is review in a nutshell.
The dial is plastic and there are shades of Grey and numbered by fives (5-55) . Inside the dial there are 12 orange dots representing the hour, however in the center there are also Roman Numbered symbols that represent the hour also. Those little details were big for me and inside has a mirror like glare. In the swatch photo I think you can see how it shines.
The watch band is blue, plastic and expandable. It stretches like no tomorrow and I have NOT broken it!!It is not an opaque color, but transparent so you can see right through the plastic. If you flip the band inside out, you will see the emblem Swatch embedded in each link. Another detail that I love about this swatch. The watch is automatic and it does have led light in the dark that shines blue. Earlier back in the day, the watch led lights were green but this was a new era in 1997! All in all this is one of my favorite Swatches and I do have it in my "everyday" collection. Although there is a scratch in the crystal, I don't mind sporting it. I usually where it when I'm in the sport mood but not really going to do any sporting..
Another small detail: When you flip the watch over, the back is clear and you're able to see the watch movement and quartz. It is amazing how watches function!! The only annoying thing is that the clock ticks a bit too loud when there is silence.
Swatch Model: 5755
Battery: 1.55V
Water Resistant: 200m