The special collection 1996 Atlanta Olympic Swatch Watch is a watch I've been waiting to review for a while now. But there are so many details, thus it took me this long to start writing 🙂 Back when I was a little bit younger, I wasn't into watching much of the Olympic Games on tv until the Atlanta Olympics in Georgia in 1996. At the time I was 19years old and in my first summer off from the university.
During the summer I went shopping at a near by Swatch Outlet at Potomac Mills in Woodbridge, VA. When I layed my eyes on the watch I wanted it immediately. I believe it was my first time at a Swatch Store and when I purchased it was my very first Swatch watch which is my favorite brand.
The watch has many details unlike any other Swatch Olympic Collection watch I've ever seen. The material is made of hard plastic like most of the older swatch models. The dial is white and inside there is the writing "1000m 1:12.43 Lillie Hammer 1994″. Outside of the dial it is navy blue and winds counter clockwise. Also, there is a nice blue backlight that glows really nice!
The band of the watch is really what caught my attention. The watch is specially made to acknowledge Dan Jansen of the 1994 Winter Olympics and it has his signature a small paragraph of his world record.
Watch Band inside writing from left to right: The American flag and next to it the signature of Dan Jansen. On the right inside band it reads:
DAN JANSEN, USA
Speed Skating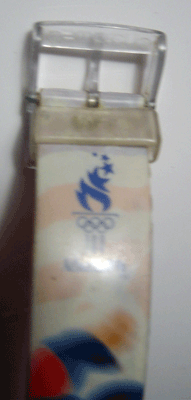 Lilliehammer 1994 Olympic gold medal men's 1,000m. Time 1:12.43. World Record
Holding the World Record of 35.7 seconds. Dan Jansen was the first athlete to skate 500m in less than 36 seconds.
Watch Band outside writing from left to right: The emblem of the Olympics 100, Atlanta 1996. In the photo its hard to view. The to right it reads:
1st 500 – 35.92!! I did it!1st per. 36! 1st place. Did it again .. with 1.
The back of the watch is clear and is water resistant up to 200m.
Battery: 11,60 x 3,10; 1,55 V HD

View more Swatch Olympic Special Edition Watches. Whats great is that you can still buy the bands as well!