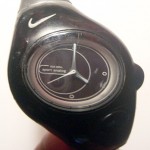 Its been a while since I've posted a watch from my collection! This Nike Analog Sports Watch that I'm presenting was a gift from my brother. This was in 1997 when this new Nike Sports watch style had been invented. The watch was designed at an angle that no watch had ever done before. I liked the watch but for whatever reason it did not sit well on my wrist. It always felt awkward to wear and very uncomfortable. I wore it at times but not as often as I would have liked because of the design.
The Nike Sports watch is an analog watch which is my favorite type of watch. The inside dial is bordered with silver and inside black with horizontal oval circles. There are no numbers present, only the hands of the watch in Grey and a white second hand. The watch is water resistant up to 100m. It does illuminate with an aqua blue light.
Unfortunately if you see in this picture the band is broken. It was ran over by a car and because the watch had very hard plastic bands it was able to break fairly easy. Ever since the watch has not functioned. It is in retirement but in my collection of watches!
Watch Battery: 626