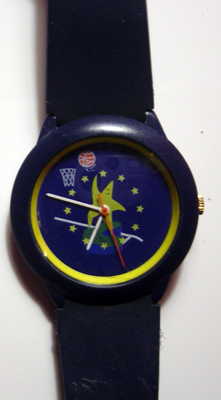 I wish my memory served me well right now, but as always it DOES NOT. I received this watch in a basketball tour which I was selected as a part of the Philadelphia Belles Girls' Basketball Club All-Star tour group. The coaches were Boo Williams and Mike Flynn. It was a great experience and my first time out of the USA during my senior year of high school in 1995.
There were many teams but mostly from Europe participating in the event. Each team received small gifts and tokens of participation. When I opened the gift bag to see a watch I was happy. The watch was not anything special but it was a watch and free 🙂
The watch color is navy blue and it is made of plastic. Inside the dial of the watch there is a yellow border and a cool little mascot which was the logo of the tournament. It is a yellow star thats making a basketball hoop while standing on top of the world 🙂
How nice!!
The watch band features a yellow strap fastener. There aren't any numbers inside the face of the watch at all. But I assume the little stars are symbols for that. The back of the watch is inscribed with MADE IN FRANCE "Etanche".  I just realized that today!!
The watch is in good shape but I only wore it that year and part of the summer. It is in my collection and memorabilia of my experiences. I hope you like it!