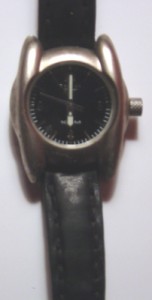 During one summer the family and I went out to the Prime Outlets in Williamsburg, VA just before the new school year started. I believe it might have been in late July or August. I wasn't exactly shopping around for watches at the time but the Reebok Outlet had a pretty good sale going on. So I was tempted to purchase the Reebok analog sports watch. The first thing that caught my eye was the chrome silver body and the back dial. Pretty neat and of course the price I believe was really cheap at $14.97.
The shape of the body was very unique to me at the time. Inside the dial of the watch the emblems are silver and the hands glow in the dark very sutle but enough. The Reebok watch band is black and very soft leather. It surprised me that a watch of this quality and brand name was so cheap at the time. Of course outlets are cheap but it was shock to me. As I play sports I wanted a downtime watch and something away from the digital watches that I owned.
The watch is water resistant up to 100m.
I honestly have it in my watch collection box because it needs a battery but I know I wouldn't wear it because I have other sport watches which I've taken as my favorite right now!