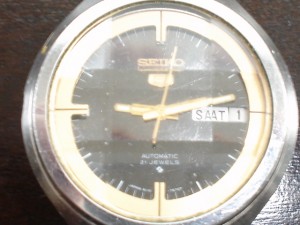 I received a request about the value of the Seiko 5 model that was manufactured in 1977. I've seen many of these watches on Ebay for auction with various prices. The details of this vintage Seiko 5 watch are the following:
The watch is in pretty decent shape with only a few minor scratches on seems due to usage. With the watch being 30 years old, it should be expected. The dial of the watch is black with an inside border of gold. I like the color combo of the watch. The specifications of this Seiko 5 is automatic with 21 jewels. Inside the dial it is inscribed "AUTOMATIC 21 JEWELS".
The date of the watch is added to the left which was a top feature back in the 70s. The day and day number is included. The hands of the watch is exceptionally neat in my opinion. I like the thick hands which are gold as well.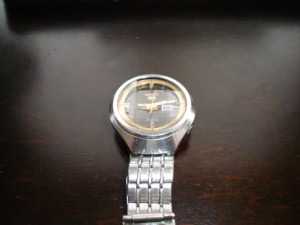 This watch is in great shape. The only visible scratches are on the silver watch band. The watch crystal is in great shape from the photo which was sent in.
Value: It would be hard to say, but if this is the original owner without services it could be worth more than the average $9.99 that I see listed at Ebay.com. Depending also where it was manufactured could help with the value of the watch. I think maximum $100 would be the value of this watch. I would keep on to it, it is a collectors item and I would give it a few years for it to mature.
Here is a listing of the Seiko 5 at Ebay just to get an idea of whats out there