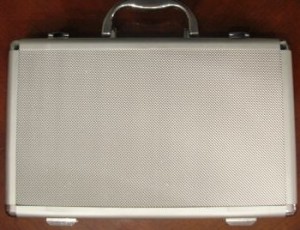 So I finally got my wish for Christmas and that was a Aluminum Watch Case. I search during November for some good cases but I wasn't really interested in the wooden watch cases although they are nice and of course a collectible item. As, I am a big traveler I need something that does not contain glass and is durable. So I decided to check out Ebay and I found my match and at a great price I might add. I, however, did use a Ebay Snip service to snap it up cheaper than it probably would have gone. I won't tell price but super cheap.
The watch case can storage up to 12 watches. Inside it is black velvet and contains soft pillows to keep my collectible watches in great shape. Also, when you open the box there is a large horizontal pocket where I've stored various things like my watch link adjuster and back up batteries.
Also, I did stop each watch in the case and probably depending on which watch should remove the battery to avoid battery erosion.
View the Case